---
## Bicycling activity slows with many parts of Texas (including some of the Houston area) receiving snow. I have been staying inside due to the cold and rain.
---
## [Col. Armando G. San Diego](http://www.timesrecordnews.com/story/life/announcements/obituaries/2017/12/06/col-armando-g-san-diego/108377376/)
### Beverly Vaughn | http://www.timesrecordnews.com


Colonel Armando G. San Diego, MD, 83, of Wichita Falls, Texas, a respected United States Air Force physician, passed away on December 2, 2017. A native of Batangas, Philippines, he was born to Dr. Amado and Vicenta San Diego.
… Following retirement, he remained active. He served the Wichita County Medical Alliance, performed medical missions in the Philippines, and volunteered in the medical tent of the Hotter'N Hell Hundred cycling events. He also served as president of the Filipino American Club of North Texas. He kept ties with fellow retired military …
---
## [ Columbus Crew owners offer sketch of potential Austin soccer stadium](http://www.statesman.com/sports/soccer/crew-owners-offer-sketch-potential-austin-soccer-stadium/9bF8P50sw5ybPPdZB2CoiK/)
### Kevin Lyttle | http://www.statesman.com
If Austin signs off on a privately financed stadium on city parkland near downtown, the owners of a Major League Soccer team see a facility that would have a small geographic footprint yet make a giant positive impact on the community.
… "We want to improve it as a park site and play soccer matches there as well," said PSV president Dave Greeley. "We could add a community plaza, and the hike-and-bike trail actually becomes more accessible from different vantage points around the stadium. This is a …
---
## [START LISTS: CYCLOCROSSERS LOOK TO STAR AT 2017 RESOLUTION CROSS CUP IN TEXAS](https://www.cxmagazine.com/start-lists-2017-resolution-cross-cup-cyclocross-garland-texas)
### http://www.cxmagazine.com
The other half of the last weekend of UCI cyclocross racing in the U.S. is the 2017 Resolution Cross Cup in Garland, Texas. The race will be held at Winters Park in Garland, which is located just northeast of Dallas.
Courtenay McFadden (Pivot Cycles p/b DNA Cycling) is back to defend her 2016 weekend sweep in the Women's races, and Canadian Michael van den Ham (Garneau-Easton p/b Transitions LifeCare) is looking to grab a win after two podium finishes last year.
Start lists are below. Lists are current as of 3 p.m. MST on Thursday, December 7. …
---
## [Austin to Maine, by way of Anchorage](https://www.crazyguyonabike.com/doc/page/?o=1mr&page_id=531065&v=1x)
### By Patrick Meaux | http://www.crazyguyonabike.com
Day 14 Sanderson to Marathon TX
Tuesday November 28, 2017, 55 miles (89 km) – Total so far: 441 miles (710 km)
This was the most interesting day so far…left at 10:30 am due to heavy fog…had a great hamburger at Stripes before leaving…the road was chip seal with varying degrees of rumble…1st 38 miles or so climbing…wind from all different directions throughout the ride…last 18 miles or so goodly amounts of downhill.
Overall a hard but good day with that beautiful West Texas scenery of Plains mixed with Mountains. I met a Swiss couple, David & Isabella, who have been cycling since 2008…living off of cash flow from their Swiss house…very interesting people, pics below.
Stayed at the La Loma Del Chivo Hostel… Ingrid and Gil owners…tremendously interesting and talented artist/travelers…it is truly a unique place and the community is also.
Cramping and a good place to stay will keep me here another day and then on to Alpine…I'm told I will be delighted there as well. Life Is good on the Southern Tier.
Hoping your week is a good one. …
Day 15 Wednesday Marathon in Place
Wednesday November 29, 2017, 8 miles (13 km) – Total so far: 449 miles (723 km)
Day 16 Thursday Marathon to Alpine.
Thursday November 30, 2017, 35 miles (56 km) – Total so far: 484 miles (779 km)
Day 17 Alpine to Marfa
Friday December 1, 2017, 30 miles (48 km) – Total so far: 514 miles (827 km)
Day 18 Marfa in Place
Saturday December 2, 2017, 10 miles (16 km) – Total so far: 524 miles (843 km)
Day 19 Marfa to Van Horn
Sunday December 3, 2017, 78 miles (126 km) – Total so far: 602 miles (969 km)
Day 20 Monday Van Horn to Sierra Blanca
Monday December 4, 2017, 32 miles (51 km) – Total so far: 634 miles (1,020 km)
Day 21 Tuesday Sierra Blanca to Clint TX
Tuesday December 5, 2017, 74 miles (119 km) – Total so far: 708 miles (1,139 km)
Day 22 Wednesday Clint TX in Place
Wednesday December 6, 2017
Wet, windy, cold with dangerous roads…stayed put, read and loafed…life is good…re-evaluate tomorrow…good day to all…thanks for following. …
---
## [Bike share head jumps to dockless company](http://www.chron.com/news/transportation/article/Bike-share-head-hops-to-dockless-company-12414199.php)
### By Dug Begley | http://www.chron.com


Carter Stern, left, and Stephen Costello pose for a photo at the Family Houston luncheon at The Briar Club on May 10. Stern, the head of Houston Bike Share, is leaving to work for ofo, a dockless bike sharing company
With a flurry of dockless bike sharing companies considering coming to Houston, the head of the city's nonprofit that has lobbied to manage local bike operations has opted to work for one of the firms.
Carter Stern, executive director of Houston Bike Share, the agency that manages B-Cycle kiosks in the city, told board members on Thursday he was taking a job with ofo, after 19 months heading the agency.
"Since then, the Houston B-Cycle program has doubled in …
---
## [FRIDAY 12 NOON Start! Tour de Southern Walnut Creek Trail](https://rides.bikeaustin.org/FRIDAY-12-NOON-Start-Tour-de-Southern-Walnut-Creek-Trail/)
### rides.bikeaustin.org
POSTPONED UNTIL FRIDAY 12 NOON DUE TO WEATHER
A moderate C-pace ride (roughly 11 to 14 mph) on The Southern Walnut Creek Trail from Govalle Park to the Abrupt End and return. Round trip is about 20 miles. The trail is paved for the entire distance, with a 1/2 mile hill on the outbound. We'll regroup periodically on the outbound and at the Abrupt End. The return is mostly downhill. And you might even see Lance flashing by.
The trail is two-way and narrows down in spots, with a couple of blind corners. Single-file riding and moderate speed on the turns is recommended!
There are two significant road intersections that require caution to cross. …
---
## [Christmas on the Concho Ride thru the Lights](http://roy-pedalpushers.blogspot.com/2017/12/ride-through-lights-san-angelo-bicycle.html)
### Pedal Pushers | roy-pedalpushers.blogspot.com
Ride Through the Lights
San Angelo Bicycle Association
December 3, 2017


Although sponsored by the San Angelo Bicycle Association, the Christmas Ride Through the Lights is open to all riders.
It has been estimated that 80 individuals turned out for the ride. A great number of parents brought their children to ride in a great, safe social setting. …
---
## [Step-Up Ride for Dec 9th, 9:30 AM Start](http://www.planobicycle.org/index.php/forums-lists/18-saturday-morning-step-up-ride/21122-step-up-ride-for-dec-9th-9-30-am-start#25673)
### jtotaro | http://www.planobicycle.org
At this writing (Thursday, 3:30 PM, Dec 7th) the weather for Saturday morning, Dec 9th, across the ride area has it sunny with a 0% chance of rain, but there will be low temps and moderate winds. Making the trade off between temps in the 30s at 8 AM, and winds getting stronger as the sun gets higher has lead me to set a start time of 9:30 AM for the Step-Up ride on Saturday morning. The predicted temp at that start time is 44 degrees with a 38 degree wind chill. As always should reality turn out to be much worse than what's now predicted, check the Step-Up page on the PBA Ride Forums webpage for any delay/cancellation notice that will be posted by 7:45 AM Saturday morning. If …
---
## [Fort Worthology: 10th Street's Two-Way Cycle Track](https://www.fwweekly.com/2017/12/07/fort-worthology-10th-streets-two-way-cycle-track/)
### By Kevin Buchanan | http://www.fwweekly.com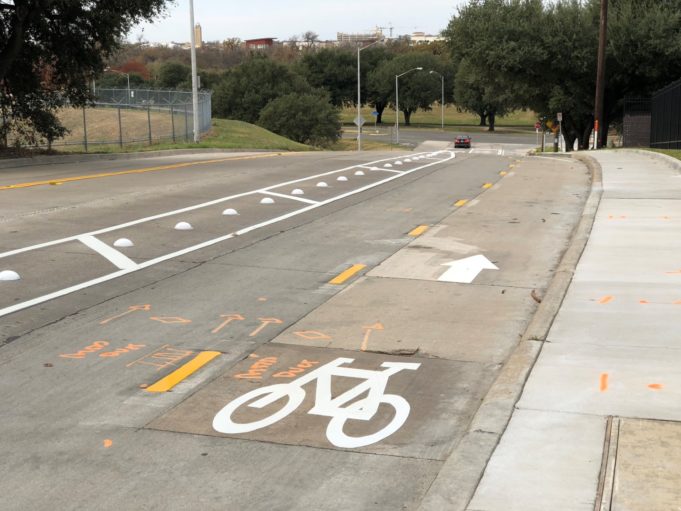 For the last several years, Fort Worth has been steadily building a network of on-street bike lanes to provide better connectivity and alternatives to driving. Bike lanes are now a larger part of city life in Fort Worth than ever before, particularly within the central city in places like the Near Southside. But for all the progress we've made on the bike-friendly front, we've been behind other cities in the form of bike lanes we've been building.
The majority of Fort Worth bike lanes are of the simple, …
---
# Texas Bicycling from Twitter
# New Events Added to Texbiker.net Calendar